In various results of my searching I find all kinds of "advice" that really are quite funny. I thought I would share a few with you and how they are proofing not to be scientifically sound. BUT, for those that don't hurt you or your future baby, by all means give them a shot! Mind you these are all my opinions, please check with your doctor if you have questions.
Next week I'm going to talk about what you can do to help get pregnant.
But first let's not stress about:
Feet where?
I have been told to keep your feet in the air for an hour after sex. What? Would it be better to hang me up by my toes? By laws of physics the size of actual sperm is not affected by the earth's gravitational pull. If sperm was the size of the moon I might change my opinion... Here's what
WebMD
said about the topic.
Who is suppose to be where?
Who's on first? What's on second? I don't know is on third? Again, like I said above, sperm are meant to swim. If you want to lean on the side of caution, don't use a swing and use what ever position makes you enjoy sex. There is some evidence that orgasms helps sperm, but it's not necessary. Here is what
Babyzone
says on the topic.
How long do you say I lay there?
Kind of along the lines of don't swim after you eat. I'm not saying do jumping jacks after sex, but sperm are designed to swim. Just sit back, relax and enjoy the moment. Give yourself twenty minutes of bliss before you return to the real world.
Eat what!?!?
I have heard to eat yams, eat salty food if you want a boy, drink milk if you want a girl. Ok, maybe there is some truth behind the acidity level of your uterus determining if you are going to have a girl or boy, but will it help you get pregnant? Not sure about that. Now eating healthy is essential to all your body's health. Yes, I do agree that you shouldn't take in too much caffeine, don't drink to the point of not being able to walk, don't smoke, take in extra folic acid, don't eat in excess, eat three meals a day, and don't eat fish high in Mercury, correct me if I'm wrong but are these all guidelines to go by no matter what?
Babyzone
agrees. I will write about trying to pick your baby's sex in a later post.
Stressed out?!?!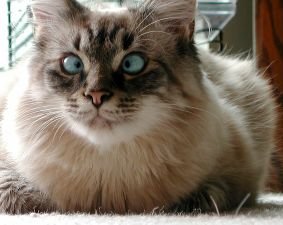 So many people tell me to not get stressed about getting pregnant. My best friend told me this the other day: if you are normally a worry wort, then trying your hardest to not worry actually changes you. Her theory is that if you keep your life at a normal level between extremes that a little stress won't hurt. If you want to make a major change (move, get a new job, quite smoking, stop drinking, exercise excessive, eat excessive, etc) then gradually try to adapt your body or prepare your body. Waking up at a different time for a new job affects your normal life, thus affecting your fertility. Stress has been linked to infertility, but I believe they are talking about extreme stress like losing a family member, losing a job, or changing a job affects your health. Not driving in traffic... or worrying about your next presentation at work.
WebMD
states there maybe some research supporting stress affecting fertility, but I say that stress affects other parts of your health thus affecting fertility. I believe it's not a direct correlation.
In the end, what gets you through making a baby is the love you have between you and your partner, your future child, for yourself, for your family, and for your friends. They are truly the best way to get support that will help you through conceiving a child. If you need more help, reach out to family and friends that have been there before or are there now. If that doesn't help, talk with a medical doctor, psychologist, help groups, book or magazine authors, blog writers, or anyone else that has professional experience with conception.
Remember a child is conceived out of love. Surround yourself by it!
And don't listen to how people define love. Love is love.